Announcements
2021 SSA RFPs RELEASED!
Proposals are requested for SIX different vendor types to provide service to SSA #42.
Proposals for the 2021 contract period are due on October 30th.  View and download the RFP's
Congratulations 10 TIDES Grant Winners!
A.L. Taylor - 1807 E. 71st Street
Chez Vous - 1931 E. 71st Street
Cut it Out Curt - 1741 E. 71st Street
D.Angelo's Pawners & Jewelers - 6920 S. Stony Island Avenue
Guyse Salon of Beauty - 2309 E. 71st Street
Oh Behave Studios, Inc - 6949 S. Stony Island Ave
Stony Island Dental Works - 2235 E. 71st Street
The Scentuary - 2154 E. 71st Street
Wilson Communications - 2052 E. 71st Street
Feeding South Shore program ends and is dubbed a SUCCESS!
What is a Special Service Area
Special Service Areas are localized tax districts that fund expanded services and programs through a localized property tax levy within a contiguous area. The enhanced services are in addition to those currently provided through the city.
The South Shore Chamber of Commerce is the service provider of SSA #42 which was established in 2006.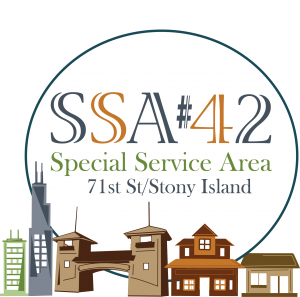 Providing services to the business corridors in our area